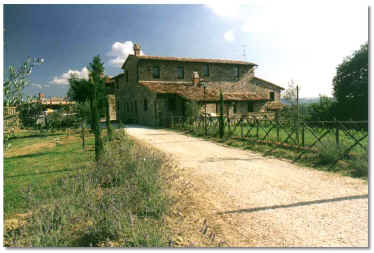 Borgo Bianchini
residence agriturismo
Frazione Canonica - Voc.Casalsetta, 74
06059 TODI (Perugia) ITALY
IL BORGO
Una terra sempre vocata all'ospitalitą, l'Umbria, luogo privilegiato di risorse naturalistiche e culturali offre molti vantaggi a chi desidera riscoprire il proprio benessere personale dal contatto con la natura.
"IL BORGO" THE AMLET
Umbria, a land traditionally famous for its hospitality, boasts many natural and cultural resources and has a lot to offer anyone looking for a sense of well being through contact with nature.
"Borgo Bianchini", una vacanza diversa.
Alle porte di Todi, immerso nella quiete e bellezza della campagna umbra, ricca di colori e sfumature pastello sorge "Borgo Bianchini".
E' un complesso di antichi casolari di campagna perfettamente ristrutturati secondo i canoni della pił autentica tradizione edilizia contadina, fatta di pareti di pietra, pavimenti di cotto, soffitti con travi di legno, camini per rendere pił accoglienti e caldi gli interni.
E' costituito da cinque distinti casolari, in pietra vergine, che ospitano dieci appartamenti di varie dimensioni.

"Borgo Bianchini": for a holiday that's different.
"Borgo Bianchini" emerges at the gates of Todi, immersed in the peace and the beauty of Todi's countryside, rich in colours and pastel hues.
"Borgo Bianchini" is a group of very old, country cottages, which have been perfectly and authentically restored according to traditional precepts for buildings in the countryside: stone walls, terracotta floors, beamed ceilings and fireplaces, making their interiors warm and welcoming. It is made up of five different cottages in stone, which house ten apartments of various sizes.

Gli appartamenti sono tutti dotati di camino, angolo cottura completamente attrezzato, riscaldamento autonomo, televisore e sono arredati con molta cura dei particolari con letti in ferro battuto, antichi mobili di fattura contadina, maioliche della vicina e famosa produzione di Deruta.

The particular arrangement of the cottages with their large, central courtyard gives them the feeling of a small, medieval borgo, or village. All the apartments have a fireplace, fully-fitted kitchenette, independent heating system and television. They have been furnished with care and attention to detail, for example their wrought-iron beds, their antique, country furniture, their famous majolicaware from nearby Deruta and their Florentine prints.

Un bel casolare, con suggestiva vista panoramica sulla rocca di Todi e la Chiesa della Consolazione, rappresenta lo spazio ideale per ulteriori momenti di relax: la degustazione di tipici prodotti della locale gastronomia, l'ascolto di musica, la lettura di un buon libro.

A beautiful cottage with a suggestive view of the Citadel of Todi and the church of Santa Maria della Consolazione is the ideal place to spend relaxing moments: perhaps trying out the local specialities, listening to music or readig a good book.

numero di visitatori dal 23/1/2000: